Au Cheval, Chicago
I came up with the idea for this blog several months ago while daydreaming about my next meal. An earlier-than-usual morning led to a rushed breakfast and the rumble in my stomach demanded a tribute to be silenced. I passed by several fine dining options while working my way down Route 4 – Popeye's, McDonalds, Wendy's…none of these would suffice.
My hangry mind had some crazy thoughts in the past, but amidst the fog in my brain, emerged an idea: a blog about burgers. And here we are.
– – –
An inaugural post for this endeavor required something special. I ran through the list in head. I ticked off local joints that I loved visiting. No…it had to be something even grander than all those options. I hopped on a plane with two friends and 800 miles later, there we were. Standing on the corner of W. Randolph Street staring at the red brick and wood paneled entrance emblazoned with the words "Au Cheval". We arrived at Burger Mecca.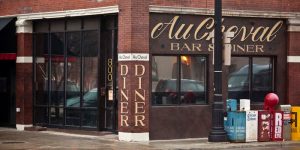 Unfortunately Mecca doesn't open until 10AM today and it's only 8:45AM.
The three of us walk into a nearby cafe and nervously sip on hot coffee for the next 40 minutes. I foolishly nibble on a croissant – my mind unaware of what my body is doing until one of my friends slaps my hand.
"You'll ruin your appetite!" he exclaims.
Damn it. He's right. I wrap up the croissant and try to keep myself busy reading the newspaper on the table.
They're still talking about the Cubs. Get over it, Chicago. (J/K, GO CUBS GO!)
We make our way to the restaurant just before 9:30AM and there's already a line forming outside. I'm trying not to hype this place up because I truly believe each person should come to their own decision. But man…I am excited.
The doors open up promptly at 10AM and we all shuffle our way into the beautiful building. The smell of bacon hits first and is followed by a greasy melody of cheese and gravy.
We sit in our classic, leather booth. It's reminiscent of something Don Draper might cozy himself on after a long day and place our orders: three double cheeseburgers with a side of bacon, crispy potato hash with duck heart gravy, and crispy fries with mornay sauce, garlic aioli & fried farm egg. I'm in heaven (Literally. After the heart attack I'm about to put in my face.)
We sit and wait. Nervously checking our phones and rearranging our utensils. Sipping our 10:30AM beers.
Finally, after a short wait, our waiter arrives and drops off our food. What was realistically a 20 minute wait felt way longer. The hanger is real.
Forget about the potato hash or the fries, I pick up my burger and take my first bite. I take a small nibble at first to make sure I can take in every piece of this famous burger.
Juicy.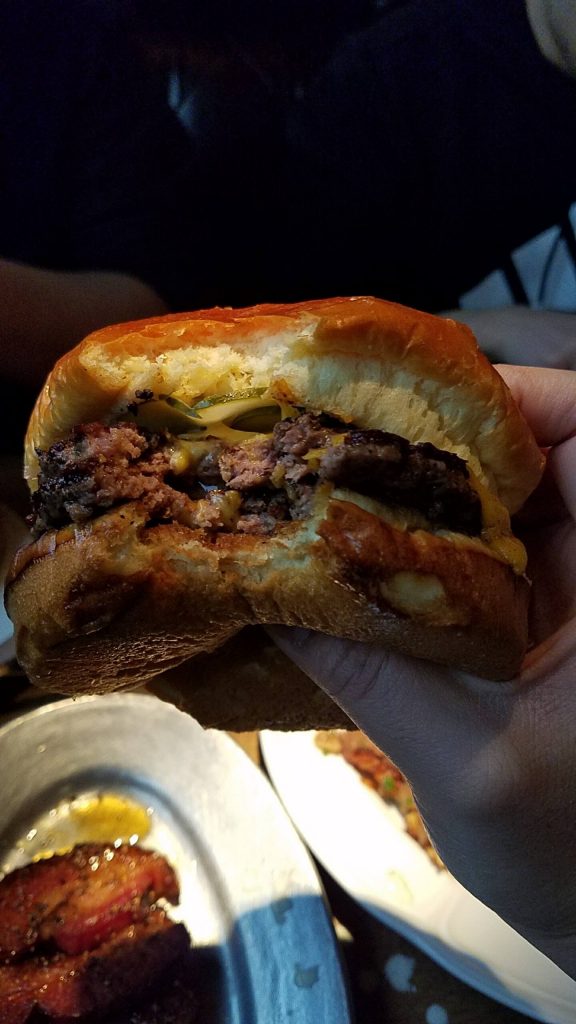 The rich cheese is contrasted nicely with the mildly salty pickles. There's a light char that adds a bite of salt with each mouthful.
Soon, the hunger takes over and I am chomping away. I remind myself every few bites that I need to slow down and enjoy the moment. Savor and dissect the flavors. I dive into the hash and the fries – a delicious melody of fat and carbs. But we're here to talk about the burger.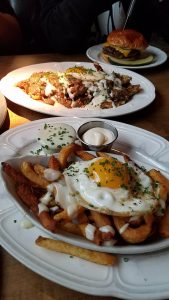 Au Cheval is oft-mentioned when the topic of "best burger" comes up. Food Network crowned it as such in a 2015 article and Bon Appetit three years before that. Search for "best burger" and you'll see Au Cheval listed – if not as a top choice then as the bar to beat.
Does Au Cheval stand alone in the pantheon of beefy goodness?
It was delicious. I wanted another one as soon as I polished off #1. I would never turn down the opportunity to enjoy another one.
The meat was well-cooked and juicy, but I surprisingly got hit with several bites of graininess on the edges. A sign that it was overcooked. Minor and to the point where I wouldn't mind or even notice on any other day…but today I hopped on a plane for this meal.
The salty goodness accentuated each juicy bite, but towards the end, it was getting overwhelming. I was appreciative of the pickle that the burger came with, which served as a refresher between each bite. A salty refresher none-the-less, but there's something about a pickle's vinegary tang that really cuts through the fat and grease.
Some people even venture to add in foie gras to this burger. Please, no. The well-balanced meat blend that each patty is made from will do. Maybe throw in a side of bacon for good measure though.
Would I recommend Au Cheval to a traveler visiting Chicago? Absolutely.
I would tell them to go to Au Cheval nice and early and during off-peak hours to avoid the sometimes ridiculous wait. My personal recommendation would be the single cheeseburger (don't worry, it comes with 2 patties) with Au Cheval's signature dijonnaise and an egg if they were feeling extra spicy. A side of bacon if you're into that. And who isn't?
Chicago is a wonderful food city and one that I thoroughly enjoyed. Au Cheval's classic atmosphere is the perfect shelter from Chicago's famed weather and the burger will serve you well.
Does the burger live up to all the hype it's received from us normal patrons and culinary experts alike? Absolutely.
…but the best burger?
The search continues….