One Eared Stag, Atlanta
Burgers and bacon, name a more iconic duo. The bacon cheeseburger was officially invented over 55 years ago by Dale Mulder of A&W (you know…the root beer brand). Pretty wild that it took so long for people to realize beef + pork made for a delicious combination. However, not everyone is a fan. Some burger-aficionados turn their nose at the concept claiming that the bacon overpowers the more subtle beef patty. Where do we stand on the argument here at Beef With Me?
It's a cool January evening in Atlanta and I've been left in charge of dinner reservations. My girlfriend suspects that I'll be choosing something romantic – a dim ambiance with candlelight flickering against exposed brick. Wood paneled windows that exude a home-y atmosphere.
She's right.
We walk into the One Eared Stag for our 7pm dinner reservations. Our Uber driver raved about the food during the entire 15 minute drive there which gets our hopes up and only adds fuel to the hunger. The neighborhood is, according to her – "so cute!". There are a bunch of residences all around with a handful of shops and other businesses strewn in between. Cute indeed.
We are greeted by a friendly hostess and are asked to wait among a bunch of antlers that are mounted on the white brick wall. They all appear to have had two ears and the dead look in their eyes are starting to creep us out, but otherwise it's a great atmosphere full of people sitting on decor and furniture that looks straight out of a Pottery Barn x West Elm catalog. We are promptly seated and while she peruses the menu, I sit patiently waiting because I already know what I'm going to get.

The Asparagus Soup.

Kidding – I'm obviously here for THE MEATSTICK.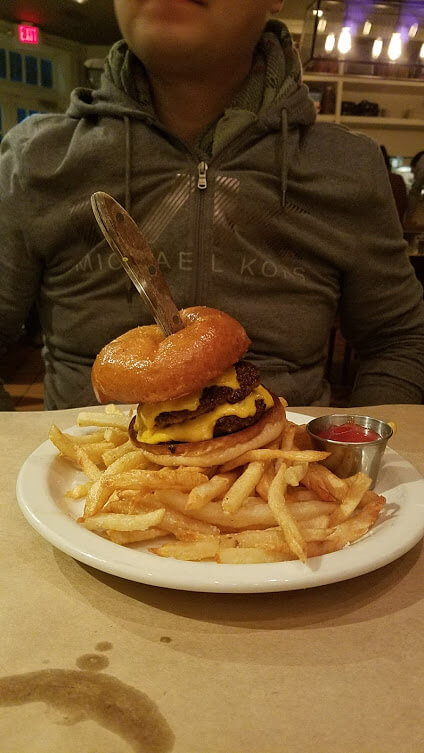 Heck of a name. The Meatstick is a not-so-secret-secret-burger that may or may not have been listed on the menu (sorry, like I mentioned…I didn't even look) but is available for lunch and dinner upon request. What started as a secret bar-only item gained notoriety and evolved into Atlanta's worst kept (food) secret. It consists of two patties crafted from a special meat blend that includes none other than ground slab bacon glued together with delicious Kraft singles cheese on a brioche bun. The dish comes served with a steak knife poking out from the center of the burger which rests on a bed of fries. Delicious.

She enjoys her collard greens and pork loin while I go in on The Meatstick. I can't tell if the bun has a light coating of butter or if it's sweating from all the sodium that I'm about to shovel in my mouth, but regardless, I am excited. I dissect the burger to find a small mound of thinly sliced onions, a pickle, and the oozing yellow cheese. I take my first bite and assess.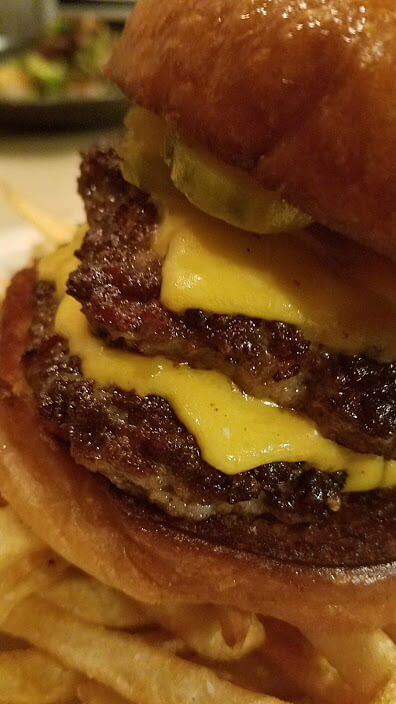 Wowza. The char on the burger is A+. It has the perfect amount of browning and makes for an awesome texture. Chemistry nerds call this the Maillard Reaction. Whatever. I almost failed chemistry.

Not going to lie, I was a bit worried. I love me some bacon, but bacon infused in my food? What if it was too salty, what if the bacon didn't cook well? This blend is tricky to work with because bacon and beef cook at different paces. You have to find a way to fully cook both sets of meat without overdoing one or the other. I'll give it to the chef – the burger was cooked really damn well. Now onto the taste.
The burger itself tasted…fine. The bacon didn't overpower the beef but gave it a nice smokey aftertaste. The Kraft cheese was the perfect barrier between layers giving a salty yet decadent glue that held everything together. Lest I offend many people, I'm not really a fan of brioche but it was the right choice to capture all the flavor…and there was a lot. There were pickles placed throughout which had a slight heat that I really liked along with very thinly sliced onions that topped everything off.

To be honest, the onion was one of my favorite parts of the burger because they absorbed a lot of the flavor and made for a refreshing cooldown with each bite. They are thinly sliced which keeps them from falling apart and out of your burger, something that I appreciated, but I felt that I only got a small handful, which is a shame.
Put this all together and what do you get? Well, on paper all of the components make sense, but in execution, it's a long list of different tastes trying to work together. It's like an orchestra – everyone is doing their part – but the volume is cranked up to 10. Ouch, overwhelming. Maybe it was an off day. I came across several salt clumps in my fries that made me make a Robert De Niro face (cue squinting eyes), but apart from those bad apples, damn those fries were addicting. I also wish I had a little more onion in my burger – perhaps that was the missing ingredient my Meatstick needed.

Have you ever had a Baconator? In theory – wow, what an idea. But you take that first bite and the next thing you know, you're shriveled up from all the sodium you just ingested. Is the Meatstick a Baconator with quality ingredients? Not quite – that would be doing the burger and the wonderful restaurant a disservice, but as I read my notes, I spot a phrase that I jotted down several times – "…but too much".
The burger comes out to $17 (or at least it was a year ago), which is a big chunk of change. I left feeling full and satisfied, albeit thirsty. I don't find myself in Atlanta too often, but I would love to give the burger a chance at redemption. We all have off nights and perhaps it just wasn't the Meatstick's day. However, with this initial experience, I leave feeling slightly disappointed. Atlanta is wonderful food city and I was honestly hoping for a little more. Will I give up on bacon cheeseburgers? Of course not. Never will I give you up. Is the Meatstick burger good?
Yes….but too much.