H&F Burger, Atlanta
One of the dangers of traveling with someone who writes about burgers is that every adventure may end up at a barstool with cheeseburgers, fries, and diet coke. I suppose there are worse things to worry about in a travel partner, but that's exactly how a trip to Ponce City Market ended for my girlfriend and I. (To clarify – fiancée now, girlfriend at the time)


We had dinner reservations in the area and had about an hour and a half to explore the area beforehand, so we took a quick stroll around Ponce City Market. For those not familiar with the area, it's a mall-type community hub full of stores, offices, and a food hall that used to be the Sears, Roebuck & Co. building until the late 70's. Imagine a less crowded and more spacious Brooklyn market.
We were strolling amongst some of the stores when an undeniable scent wafted into my nose. I immediately grabbed her arm and rushed off like a bloodhound on a mission. I found myself standing in line at H&F Burger while she reminded me several times that we had dinner reservations in about an hour. I weighed my options and argued that this was for work…I write a food blog after all. She rolled her eyes with a dismissing "whatever" and found an empty table to wait at.
Atlanta is a surprisingly big burger city and Holeman & Finch deserves a ton of credit for that. The H&F burger started off as an off menu, late night offering for those working in the restaurant industry. It was served at their main location, Holeman & Finch Public House, and at exactly 10PM, 24 burgers were cooked, offered, and sold out within minutes. No more, no less…you had to work to get this burger. You can learn a bit more about the unique story behind this burger at The Amateur Gastronomer and their 2010 post – highly worth reading.
Fortunately, I don't need to bribe anyone for the burger or go at a certain time at this expansion in Ponce City Market so I wait patiently for my turn to order. During the wait, I make up my mind. She's right, we do have dinner coming up and it's probably not responsible to eat too much now. I swallow my pride and order the Mighty Jr – the….junior cheeseburger. Who am I?
I wait for what feels like a bit too long for my burger. I place my order, stand off to the side and stare into the kitchen. I can hear orders being called out but there doesn't appear to be any urgency amongst the kitchen staff. Several people are grumpily starring at their tickets, looking around, and sighing. I dare not look back at my girlfriend who is undoubtedly annoyed by this date night turned burger run.
My burger finally arrives after about 20 minutes. Feels a bit long for a mall food stand, but it does smell delicious. I bring it back with the biggest "I love youuuu, thankyouforbearingwithme!" smile that I can muster and we divvy up the goods.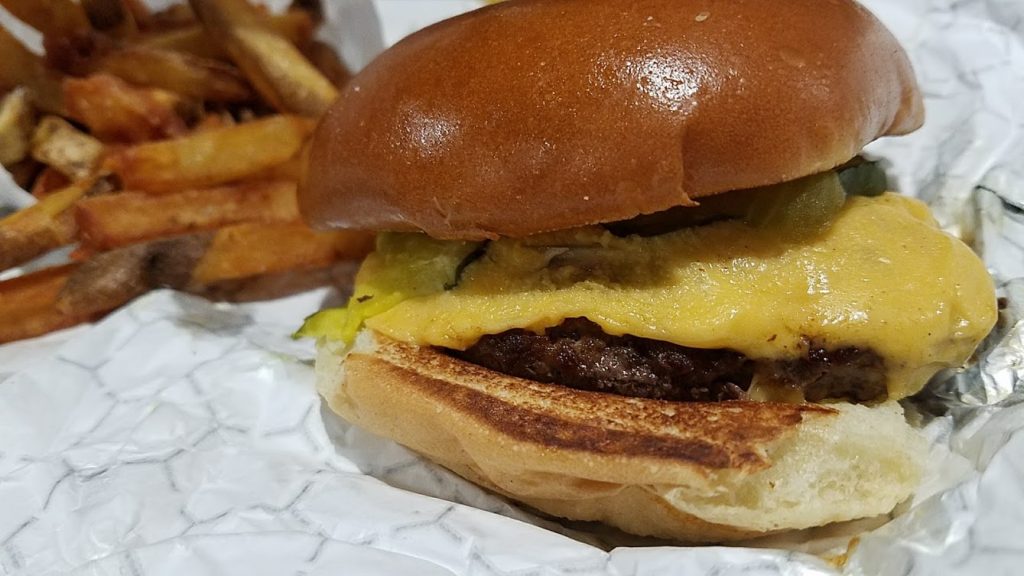 The first thing that I notice is that the bun looks way too big for everything else. Granted, this is the junior burger, but i'm still disappointed with the carb:beef ratio. Second thing that I notice is that the cheese isn't melty – it may have been at one point but it's starting to look a little rubbery. Maybe my burger was finished and sat for a little bit?
Either way, I give H&F the benefit of the doubt and take a bite. The beef blend is 50/50 chuck and brisket. An interesting combination as most burger blends go with a 70/30 ratio, but chuck and brisket are both high flavor cuts. Very promising.

A quick aside (pulls out presentation stick) – Generally, the cuts of beef that come from parts of the cattle with lots of active muscles will provide flavor. This is where the steak-y beef taste comes from. The cuts that come from fatty portions might not be as flavorful, but that's what helps keep things juicy. A lot of grocery store butchers grind their beef multiple times to hide this fat and turn the ground meat blend into a light red mash, but remember….fat isn't bad.

Okay, back to the review.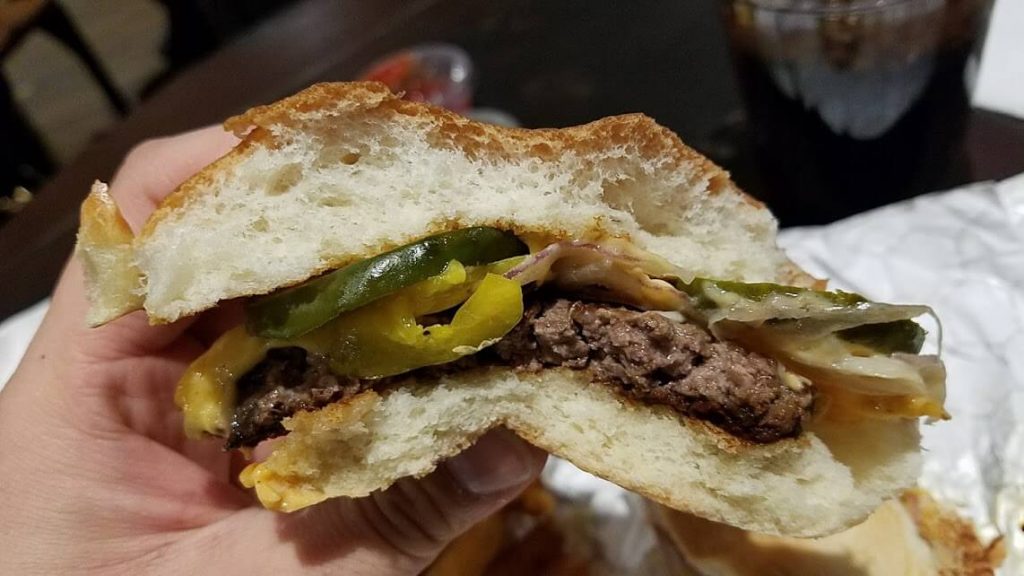 The char of the burger is great. Sometimes with smaller patties like this one the outside texture can be left without char for fear of overcooking the burger. Speaking of which, I do notice that some of the outer edges of my burger feel a little overcooked. I work my way towards the middle and i'm able to really enjoy the juicy and flavorful meat. It's cooked much better the further you go in and I'm left wondering if that's a side effect of the burger being left out too long after being fully cooked. The bread and butter pickles are great and the red onions make a nice combination with the forever amazing, Kraft Singles American cheese. I don't care what the fromagerists(?) say, but Kraft Singles will always be one of my favorite burger cheeses. There is nothing in nature that can compete with the gooey, melting properties of the totally-made-in-a-lab yellow square.
I also ordered the fries which come with H&F's house-made ketchup and they are spot on. The fries are the perfect crisp and have traces of potato skin, which speak to me in a certain way. The ketchup has none of that overly sweet and chemical taste that Heinz sometimes leaves behind and you can actually taste the tomato paste.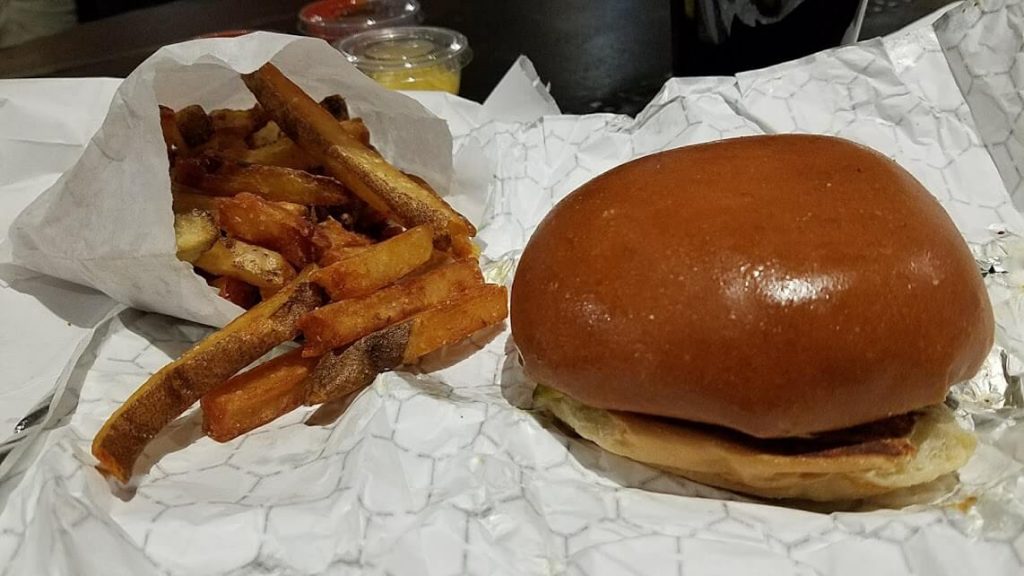 The Mighty Jr, fries, and a diet coke came out to around $12, which isn't bad for a quick meal on the go. The burger certainly had it's weaknesses although I don't rule out the size (you never go junior sized…) and the poor service as major contributing factors to that. I love Atlanta and their burger scene and will need to give the famous H&F burger a second chance to make a better impression. Perhaps a quick stop to Holeman & Finch Public House on a Sunday (where they serve the burgers all day with no limit) is in order to make a final ruling.
However, the mark of a true professional is the ability to be prepared in all circumstances, and this trip to H&F Burger left me feeling like I caught someone off-guard. A poor showing for a burger that deserves so much more.